It's not about the bike ...or is it?
Friday, September 16, 2005
Last week, I beat the sub-53 minute goal I had set for the
Thursday night duathlon
.
Last night, I talked myself into proving that it wasn't a fluke, and went all-out again in an attempt to repeat.
I finished with 54:07. Oh well, not bad, still my 4th best time out of 17 attempts this year. [Sidenote - holy cow it's been 17 duathlons this year].
What I did notice though, was that I have a lot to learn still about riding a bike. Even though I managed an average cadence of 90 last night, I didn't feel I was as efficient as I could be - my side-to-side motion was out of control, my aero-position was burning between my shoulders, and my legs (top and outside of my thighs) were aching all night long afterwards.
So far in my Triathlon career I've relied mostly on brute-force to get me through the bike portion.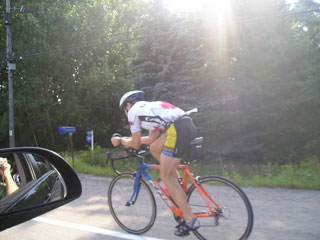 This picture haunts me a bit, it appears to me, that my leg positioning is way off.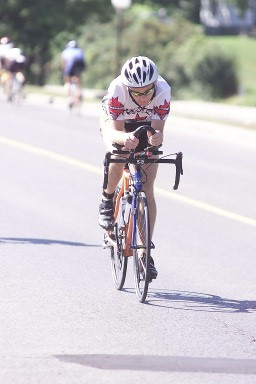 However, in this picture, my aero position looks pretty good.
I know that it's not about the bike (for the most part)... but I will endeavour in this off-season to find out how I can get better on the bike.