Ottawa Marathon Race Report 2010
If I had to sum it up in one word, it would be, "Perfect". The synchronicity of circumstances could not have been better orchestrated. My training, my clothing, my shoes, my hydration, my nutrition, my pacing, my sleep the night before, the trip up… everything… not to mention the weather! The weather was supposed to be the big story of the day, and I think it was but not for the original reasons. Instead of hot, hazy and humid, it was 16, overcast and breezy. It was certainly a message – and the message was: "Seize the day!"
I met Joe at his house early in the morning; we all bundled into his car and before we knew it we were pulling into Ottawa. A quick trip to "drop the kids off at the pool", and then we were off to the Athlete's Village. A little while later, we bumped into the Croneys, Jeff and Jacob. One final trip to a secret bathroom inside city hall and I was ready to go. With about 4 minutes to spare, I squeezed through the barriers into my allocated corral. I spotted the 3:45 bunny, and tried in vain to inch my way towards him. Not a problem, "I'll keep him in sight." Sooner rather than later, we were off and running.
My goal was 3:45, based on quasi-science from the McMillan calculator, with a heaping side-portion of pride. "Stick to the bunny" was the plan. The first kilometer, as is normal, was as chaotic as could be expected with 4000 people racing to get to the same place. I hit the split at 5:32. (22 seconds over budget). Not to worry, I knew we'd make it up.
The next 4-5 kilometers were quicker: in the 5:07 range. "We're banking time," said the bunny. It was going well. I could handle the pace; I was feeling strong and comfortable. Somewhere around 8km, we crossed the bridge back into Ontario. At this point, the pathway is only wide enough for 3-runners at a time, and somehow, I got ahead of the bunny. I slowed a bit hoping he'd reel me back in, but he must have slowed down over the bridge. "Screw it", and I resumed at my own pace – I was feeling great – I was riding a huge wave of confidence. Each kilometer was flying by; clicking off in the low 5:teens.

Any chance I could get, I would ride inside another runner's "energy bubble." I didn't chat at all, but I was aware of who the "energy" people were – the positive runners who would either ham it up with the crowd or chat out loud with the others. I stayed away from the wobblers, weezers and groaners. Around 25K, my buddy John was in the crowd, "Way to go Philly!" - a great boost.

33K - Cue: "Vincent Massey/Heron Road Mind Trick". Sub Titled: "Where's this 'Wall' I've heard about?", a.k.a. "Slaying the demons of 2006". This part of the route, thankfully has changed considerably from when I did the half-marathon in 2006. Suffice to say, within no time, I was up and over the bridge and rounding the corner on Prince of Wales drive. I noticed I was in fact slowing, (into the 5:40s), but I had so much time in the bank, I wasn't the least bit worried. More importantly, I was mentally and physically still in it. In fact, truth be told, I was starting to feel a little sad that the journey would almost be over; had I lavished "in it" enough?
As we merged with the Half-Marathon route, at about 4K to go, I was starting to get tired. Caro, the 1:45 bunny caught up to me, it was nice to see a familiar face. A few minutes later I passed Sandra and Mimi cheering from the side of the road. I think this is where I hit the wall. My legs didn't want to go anymore, but my mind persevered. I thought about meeting up with Guylaine and the kids and my parents afterwards. That kept me going.
The last 2K was murderous. I have never wanted anything to be over with so badly. Time was moving by slower than ever. "Don't quit, don't quit, don't walk, keep running." The 3:45 bunny whizzed by… (rats).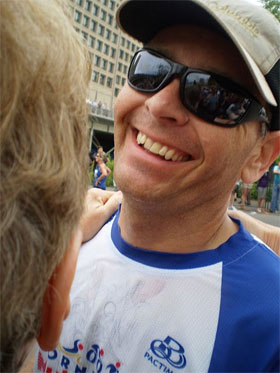 Done!
750meters… 500meters… 200meters… somewhere in there was Adelle. The finish line! I walked across arms raised. 3:47:12. HALLELUJAH!
My parents found me just shortly after the line, and I met up with Guylaine and the kids shortly after. I was very glad to see them all.
Post Script:
I am thrilled with my finish time. I am so happy with how everything went on the day. I know I ran as best as I could – I would not have done anything differently. I took my fuel belt and had 2 flasks of water. I sipped at them before I felt thirsty, and re-filled them along the way. I slowly took in (a total of 3) gels along the way before I needed them (thanks to Sandra for the tip). I dropped my shoulders and ran loosely whenever I thought to (thanks to Jen for the tip). I shortened my stride and quickened my cadence whenever I thought to (thanks to Rik for the tip). I sponged off and preemptively dumped water on me before I felt hot. I stayed in it mentally the entire way (thanks to 6 years of multisport experience). I was properly trained due to the 18 week Higdon plan. Perhaps most shocking, I didn't stress about splits (thanks to deciding on not bringing my Garmin!).
This was my first and will be my last marathon. I could never top it. It was perfect.
Special thanks to Guylaine and the kids for accommodating me. xoxo