CMC Labour Day Chase - 5K - Race Report
I have officially lost my mojo for the year. The last ounce oozed out of me on the finish line at the Cornwall Tri. Maybe I shouldn't have
shaved my legs
-- Samson's hair(?). It doesn't matter - the last few weeks have been some of the most pleasurable in my "racing career". Last Monday, I helped Andrew through the 1-10-2 club duathlon; and on Monday, we set a PB together. His first attempt at 5K. He finished! He shattered 30 minutes.
The Labour Day chase, was a follow-up to the Victoria Day Chase. That day, I channeled,
Phil the Thrill
, and ran a (good-for-the-start-of-season-considering-I-was-in-hospital-2-months-earlier) 22:38. Although, I let down a legion of fans (maybe that's stretching it), Phil the Thrill was left at home yesterday. My goal for this race was helping Andrew.
In reality, he didn't need help. He did it on his own. But, it was awesome to be with him along the way. We all lined up at 9:30, and I left him with the M14 and under corral. My start time was about 90 seconds after his. My plan was to catch him in the first K-or so, and then run the rest with him. In the pre-race chatter, I missed watching his start - the deal was that he was going to take it easy! But I'm sure he took off like a bat out of hell. Shortly after, my group started. In the distance, I could only just make out Andrew's shorts and shirt. He was way out there. I got the first kilometer marker at 4 minutes on the dot, Andrew was still way ahead. Finally, I reeled him in at about 1.5K, and slowed from 4 minute pace to 5:20-ish, "How ya doin?"
"Good" was the reply. He was doing great. We ran the rest of the race together. We walked a few times - but he was determined to not walk too much. After 4K, I noticed the time, and figured he had a good chance at going under 30 minutes.
"Dude" (Sometimes I call him that), "I know it's hard-- but if we pick it up a bit, and don't walk anymore, you can definitely go under 30 minutes"
"Really?" (I'm sure he had no idea what that really meant, but he probably inferred from my tone, that it was a good thing.)
We picked it up a bit. Coming along the back 300 meters, various finishers had walked back, and were cheering us on. Andrew was seriously getting his groove on. Guylaine met us at about 150 meters, she looked surprised that we had made it so quickly. And then, he spotted his target. A woman about 20 meters in front of him. The sole object between himself and the finish line. "Poof" he was off like a child possessed. I honestly couldn't keep up with him. She edged him at the line by a second. But whoa. What a race. 29:19 for the little guy.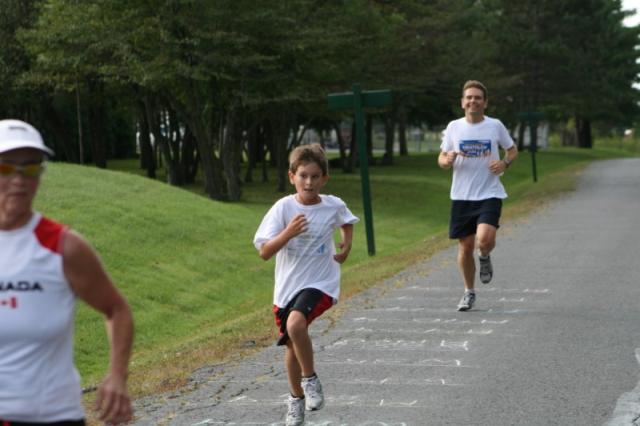 Andrew surges for the finish line. Leaving me in his dust, and taking 5 seconds on me in the last 20 meters.