Triathlon Stimulus Package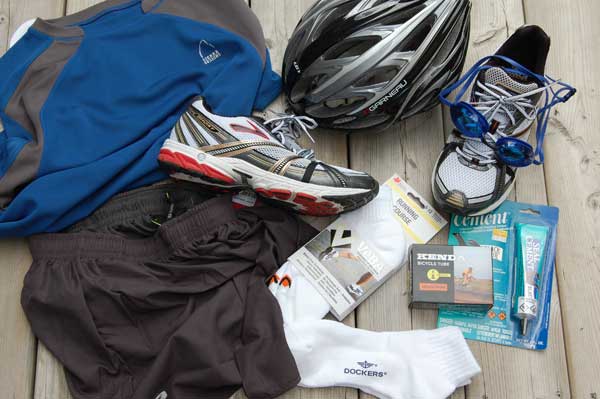 1 x Louis Garneau Exo-Nerve bike helmet: this helmet makes me look the least dorky of all helmets I have owned; I did try the 'Rocket' but I just couldn't do it - maybe next year when aerolids are the norm.
1 x Brooks Ghost running shoes: $99.99; hopefully they work. Initial observations are - narrow toe box, but very light.
1 x Sierra Designs technical t-shirt: Oddly, I only have about 3 Tech Tees, and they all date back well over 3 years. They stink. The stink is unbearable. Nothing like a nice fresh t-shirt.
1 x Sugoi running short: Again, I only have 3 pairs of shorts that I like to run in. I often find myself re-using a dirty pair - oh, the sweet smell of swass is just lovely the second time around.
1 x Speedo Vanquisher Goggles (blue lenses): Pre-emptive strike. My current pair have been on their last legs for over a year. It's just a matter of time before the strap lets go.
2 x Kenda inner tubes: Guylaine is queen of the flats. "Phil, is it bad that biked home 20K on just my rim?"
2 x Veba running socks: Tired of being made fun of for running in my cotton tube socks.
3 x Dockers 'technical' socks: cheaper than high-tech Veba socks; anti-fungal, yum.
1 x AquaSeal cement: to fix the gaping holes in my wetsuit.
I'm doing my part - what are YOU doing!?!?