Dear Santa
Monday, November 26, 2007
I've been good all year, so good in fact, that I'm pretty sure that I deserve something huge this year.
But, I'm going to cut you some slack, and offer you some major savings.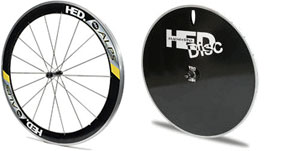 Hed Alps front wheel (55 mm deep) PLUS a lenticular rear disc.
Currently on sale (30% off) at TriSports.com
Add on 20% off discount (today only).
Factor in the Canadian Exchange rate.
And we're talking a mere $666.
More Details:
http://www.trisports.com/hed-alps-lenticular-disc-wheelset.html
UPDATE:

Dear Phil,

Thank you for contacting TriSports.com!

Sadly, HED products are not eligible for this discount. Our discount policy can be found here: http://www.tri-sports.com/privacy.html#Coupons

Please feel free to contact us if you have any additional questions.