Dear Asics.... thanks for the memories
It all started in 2004 with Gel 1090. In 2005, I welcomed Gel 1100. In 2006, I loathed Gel 1110, yet reveled with DS-Trainer XII. In 2007, I was ambivalent with Gel 1120.
We've had some
good times
, and some
bad times
. But through it all, I stayed loyal to the brand.
My recent discussions with a Podiatrist, indicating that I should not be wearing stability shoes, but rather neutral shoes, afforded me the opportunity to try something new.
Yesterday - a trip to the Running Room, and a blank canvas.
I tried the Nike Pegasus - A staple running shoe that has been around forever and probably will be around for ever. Not overly expensive, and often heavily discounted.
Verdict: nothing special.
I also tried Saucony Trigon - A great brand, with a great reputation.
Verdict: not for me.
When I slipped on the Adidas AdiStar 6's, I knew I had found my next pair of shoes. I had that rare feeling of sliding into a pair of comfortable slippers. It's the same feeling you get when you try on a pair of pants that fit just perfect.
A 20% off coupon from
visaperks.ca
and it was a done deal.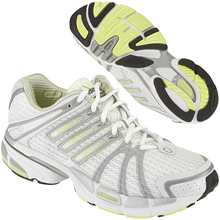 I will try them out on the treadmill at lunch time.