Pimp my Ride
Alternate title: Zippedy Doo Dahh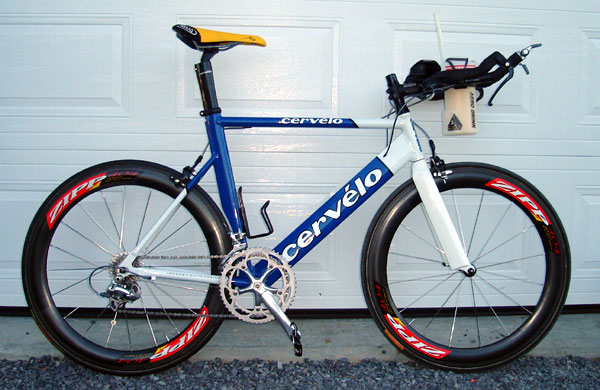 A temporary fork has been installed, while the replacement Wolf TT is being processed by Cervelo. Featured above in all it's shocking white glory is the Qunitana Roo Carbonaero.
This is somewhat of a miracle fork, both in it's journey and installation. (Thanks again Rob!)
From Slowtwitch
This fork was originally the Carbonaero, and was commissioned by Quintana Roo. Kinesis built the fork specifically for that company. It was a good enough fork that both Cannnondale and Trek paid extra to be able to spec it on their tri bikes, and QR got a royalty of every fork sold to each of these two arch competitors.

Before you start thinking this its extra weight makes it a less-desirable fork, just remember that Lance Armstrong rode this fork during his time trials in the Tour, and not just in his first Tour victory, but his next one as well.
Totally Tubular
But perhaps it's not the shocking white fork that draws your eye... could it be the
Zipp 404
tubulars?
No, they are not mine. Again, my good friend Rob to the rescue. He has graciously lent them to me for the Tinman. I will test them out tomorrow.
Banana Seat
Oh, and the original Selle Italia saddle has been installed. It's banana bonanza. But a heck of a lot less grams than my WTB saddle, that I had to swap in to accomodate my new X-Lab wing.
Waxed and Ready
Not my legs (yet)... but a good degreasing of my chain, and a new coat of White Lightening and I'm ready for the road.
Two wicked-fast bikes, side-by-side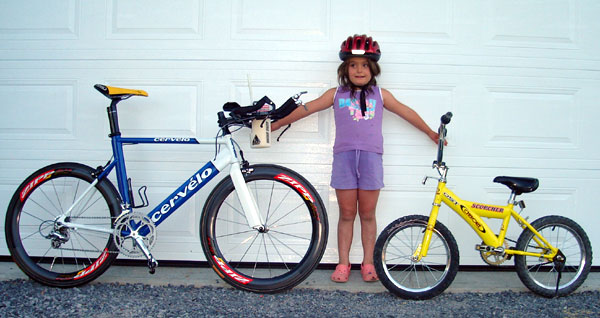 Sponsorship Opportunity
Attention Sponsors ... Attention ... Attention ...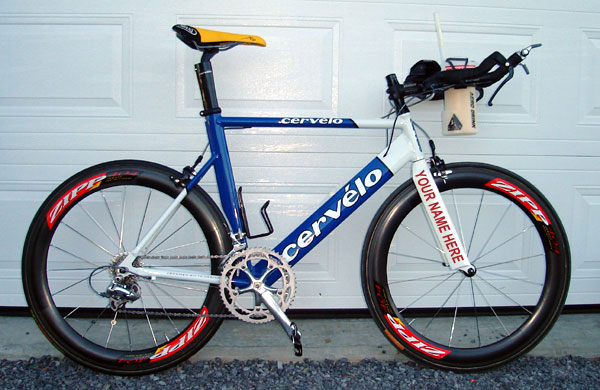 I am willing to prostitute the left and/or right side of my front fork to you and your product or service for this week's big race : contact me to discuss options (minimum bid $3.00)