I'm a poser
The longest I have ever ridden a bike, in one sitting, is less than 70K. In fact, searching my archive of logs, I could find 2 "long" entries: July 31, 2006: 58K; June 28, 2005: 62K. Neither have any notation other than distance, and there's no corresponding blogging record. I think the June 28 entry is a total for the day (22K commute, 16.5 K ride at lunch, 23.5K family ride in the evening?). This year's longest ride was 58K in Lake Placid ... at a Zone-1 pace.
Regardless. I'm a poser.
Half Iron: 90K - "Oh, yeah, I'm going to try and negative split - 1:35 on the way out and 1:25 on the way in" <-- Uhhh.. what? Based on what experience exactly? My longest sustained physical activity to-date is probably less than 3 hours. This Saturday, as my Father's day Gift - I will be leaving by bike 2-1/2 hours before the rest of the family en Route to Brockville. I will finally get to cut my teeth on a "long ride".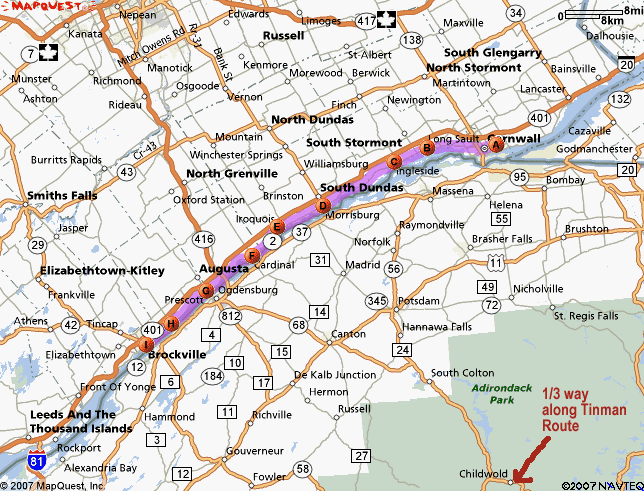 It looks like an easy enough route. Lots of small towns nicely spaced along the way.
Cornwall to Long Sault: 16.5 K
Long Sault to Ingleside: 8.3 K
Ingleside to Morrisburg: 19.9 K
Morrisburg to Iroquois: 11.7 K
Iroquois to Cardinal: 9.5 K
Cardinal to Prescott: 14.4 K
Prescott to Maitland: 11.5 K
Maitland to Brockvegas: 7.6 K
Total one-way Trip: 99.35 K
... you know there's no way, I'm finishing with 99.35K on the clock, there will be an extra 650 meters thrown in somewhere to get me to a cool hun'.
This ride, will be 3 weeks out from the '
big dance
'. It will either scare the crap out of me, or be a huge confidence builder.