Nuthin says Merry Christmas like 2.5 ounces of Body Glide
Thursday, December 22, 2005
My mother-in-law lets us pick out our own Christmas Presents. It's capped at $30. Of course, I can't get anything off my
Official 2K5 Christmas List
in case maybe it was bought already - so I had to find something else.
I've had over 2 weeks to find something... ....procrastination... ....procrastination.... last night, I went to the Running Room, and picked out a 2.5oz stick of Bodyglide, and some $10 Nike running socks. Hey! it'll get used and it'll be appreciated!
Nutrition Update
I finished yesterday's numbers. My caloric intake was closer to 3000. So, I've recalculated a weekday average based on this. Percentage breakdown goes to 24% Fat, 61% Carb and 14% Protein. So yes, a little extra would serve me well - but again, a glass of milk would do it.

More or less, this represents a good average, as I will have leaner days ~ 2000 cals, and some heavier days ~ 3000 cals. Again, weekends... don't even get me started. What's that Homer Simpson quote...?
Mmmm, beer.Averages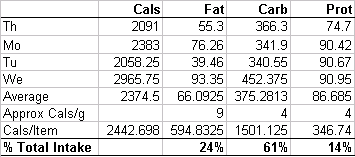 Source Data