Out like a lamb, in like a lion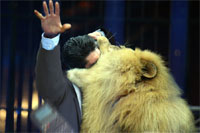 A great weekend at home. Managed to do lots of fun stuff together. ..and even got some exercise in.
The Bike
Saturday: I attacked Blair Road hill with my bike - something, I'd been wanting to do for a while. I've incorporated this monster hill into one of my running routes, but I had yet to climb it (on the bike) -- not for fear of climbing, but for fear of descending.
I love speed... flat speed... maybe even rolling hill speed... but downhill rocket-ship speed is another beast. It scares me. However, I climbed Blair 3 times, and descended it 3 times. This was a great hill workout.
You know you're having fun, when your heart is about ready to explode, your legs are about to fall off, you're just about to start rolling backwards and when you try to gear down - your shifter laughs, and says "Dude... there ain't no more gears left."
The Run
Sunday: I wanted something longer than my usual 10K, but, I just didn't have enough time for my next route (17K). I compromised at 12 (??) I actually don't know how far it is, because I've never mapped it before (and most of it is under cover of forest - so GMAP's no use).
The first and last kilometer are known, and I ran them in 4:39, and 5:33 - so I figure overall, it was a good medium pace of 5:05.
Ordinarily, not knowing the splits for each kilometer would drive me nuts, but I was just happy to be out running.