Neoprene withdrawal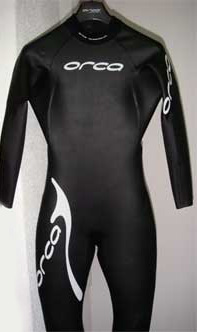 Last night's swim made me realise, how much I miss my wetsuit. Sure, I can swim fine without a wetsuit, but I miss what it stands for: open water swimming, competition. I miss that special feeling I get when I put it on - "Look at me, I'm a Triathlete!" Snobby... I know.
I miss the comforting tightness of it. I miss the smell of it. I miss that feeling, when finished, where in one smooth motion, you tug the zipper down at the back.... oh well, only seven more months....
Last night's drills went as follows:
400 Warm up
2 x ( 150 pull, 150 kick, 100 drill front, 100 drill back, 100 IM)
100 Easy
6 x 100 (25 x Front, 50 x Breast, 25 x Front -hard)
6 x 100 (25 x Back, 50 x Front, 25 x Back)
200 IM
4 x 100 (25 x Easy, 50 x Med, 25 x Hard)
6 x 50 (Sprints on 1:00)
400 Cool down
-------------------------
4100 yds (3750 meters)
I had my "duathlon buddy" Ilona, in the lane beside me. We're about the same speed - so it helped having her beside me to keep me motivated, and to push myself.