All alone in the pool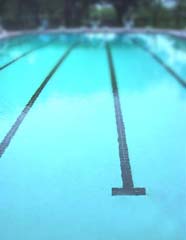 "Masters" swimming again last night. The session started with 3 of us.... after 40 minutes, I was all alone.
It's always nice to have the whole pool yourself. Absolutely no turbulence, no waves, no other splashing. Quiet and calm. I felt like a rowing skull cutting an early morning lake.
On the other hand, it does get a little boring being by yourself. I also feel I would benefit from some "friendly competition".
I did feel self-conscious, and could feel the eyes of everyone on the mezzanine (all around the pool) watching.
The Workout
400 warm-up
10 x 100 (4 free, 3 pull, 3 choice) on 25 seconds rest (I forgot the rest part)
3 x (100: 25 drill, 25 swim, 25 drill, 25 swim;
100: 50 kick choice, 50 kick free)
8 x 75 (2 Free, 2 Breast, 2 Back, 2 Fly or choice) For the Fly ones, I did 50Fly, 25 free, and then 25 Fly, 25 Free, 25 Back [getting tired]
5 x 100 IM (on 2:00) [managed]
2 x 100 (25 scull, 25 swim...)
4 x 50 Sprints [tired... averaged 42 seconds per]
400 cool-down
Total: 3,900 Yds (3,566 meters)