Treadmill Season
Thursday, September 22, 2005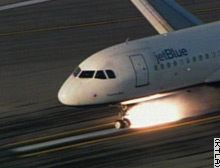 It's getting dark earlier and earlier, and that can only mean one thing... Treadmill season is upon us.
Some people hate treadmills. I prefer to run outside, but I don't mind the treadmill. My wife prefers to run inside.
Last night I did 10K. The advantage, is you can watch TV.
What was on TV last night? JetBlue 292. At first I honestly felt nauseous watching... I'm not a huge fan of watching other people's misfortunes... I couldn't turn it off though. When they announced that would be landing in 2-1/2 minutes. I kept my fingers crossed... please make it, please make it, please make it, please make it.
WOW - Unbelievable. Hats off to the pilot.